Installation¶
Before installing and activating the LSCache plugin, deactivate all other full-page cache plugins.
Tip
You can still use other types of cache (like object cache), but only one page cache can be used at a time, so you'll need to disable any other page caches, if you want to use LSCache.
Module Installation¶
Note
Please see the Overview for the server-level requirements before attempting to install this module.
Download the LiteSpeed Cache Module to your local computer from our GitHub repository.
Place the following code in the .htaccess file at the document root:

    <IfModule LiteSpeed>
    CacheLookup on
    </IfModule>


Visit http://example.com/admin/modules/install (where example.com/ is your site's domain) to install the LSCache plugin.
Tip
This import method requires that you have the Drupal core module Update manager enabled. Without it, the above link may not work.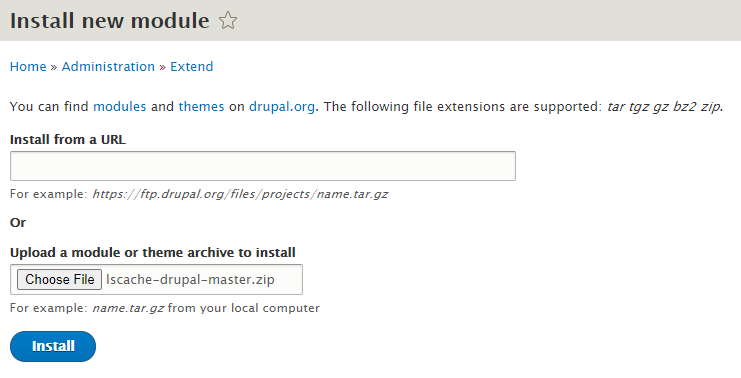 Using the Choose File button, find the plugin you downloaded from GitHub, upload it, and press Install.
A confirmation screen should appear. Click Enable newly added modules or visit http://example.com/drupal/admin/modules directly.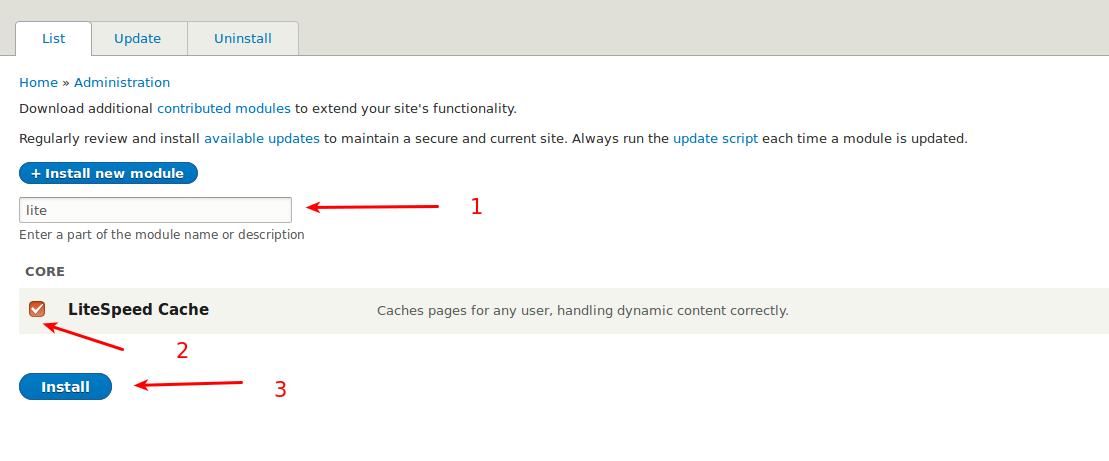 Use the filter box to search for the LiteSpeed module, if the list is long.
Check the checkbox next to LiteSpeed Cache.
Click Install.
Verify Your Site is Being Cached¶
You can verify a page is being served from LSCache through the following steps:
From a non-logged-in browser, open the developer tools and navigate to your site. Open the Network tab.
Refresh the page.
Click the first resource. This should be an HTML file. For example, if your page is http://example.com/webapp/, your first resource should either be something like example.com/webapp/ or webapp/.
If you see headings similar to

X-LiteSpeed-Cache: miss
X-LiteSpeed-Cache-Control:public,max-age=1800
X-LiteSpeed-Tag:B1_F,B1_ 


(for example), this means the page had not yet been cached, but that LiteSpeed has now stored it for future use.
Reload the page and you should see X-LiteSpeed-Cache: hit in the response header. This means the page is being served by LSCache and is configured correctly.
If you don't see X-LiteSpeed-Cache: hit or X-LiteSpeed-Cache: miss, then there is a problem with the LSCache configuration.
---
Last update: October 17, 2020